Clip-it Recorder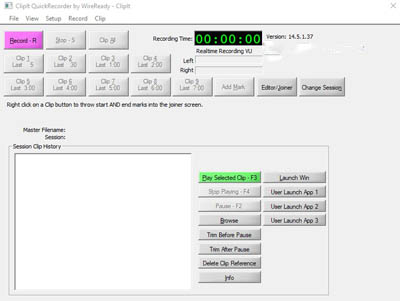 NewsReady newsroom & ControlReady on-air automation customers:
Ever wish you could generate clips of a news interview or sports broadcast WHILE it was still recording? The Clip-It Recorder is a pop-up application you can put anywhere on your desktop. During games and interviews, clip and air cuts without interrupting the recording. Configurable buttons. Instant playback buttons can auto-load the last clips you created.
ClipIt/QuickPlay is an undocked window that allows for recording and playback of audio during events as part of WireReady32. ClipIt/QuickPlay is available in WireReady32 version 9.000 and higher.
Capturing Clips
There are 4 buttons with pre-set lengths to capture. The length of the clip that will be saved is displayed on each button. When a button is clicked, a file will be created with that length of audio. The audio will be pulled from the end of the master recording file, so the file will contain the most recent audio.
Playing Clips
The 10 QuickPlay buttons along the bottom of the screen mirror the first 10 Preset buttons in the On-Air/10 Deck screen. These buttons can be populated on the ClipIt/QuickPlay window by using the Change Preset button and loading one of the saved Preset groups, or individually by right-clicking on the button.
Go to tech support & read Clip-It Manual
Go to tech support and download Version 9!
Can I buy the Clip-It Recorder as a stand-alone app?
Yes. NewsReady and ControlReady customers with current support plans get Clip-It free when they download Version 9 (support and upgrades for Clip-It are included with your regular service plan). If you don't want to purchase a support plan right now to get the Version 9 upgrade, the Clip-It Recorder can be licensed for $99 per machine or $995 for an unlimited user site license. Purchase includes 30 days of daytime M-F 9am-6pm 800 support. Purchases can be made by check or credit card and we will email you the software.