ControlReady32
Radio Automation Software
Live-Assist, Walk-Away, Voice Track, Overlap, Reconcile, Auto-fill, Auto-sync...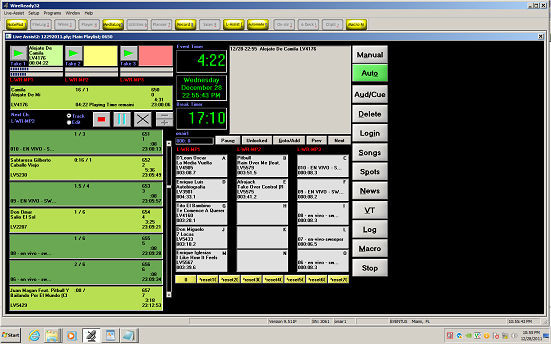 Used by hundreds of stations and radio networks worldwide. Live Assist or Walk Away - ContolReady gives you the best of both worlds. Run satellite music and news/talk stations. Run music-on-hard-drive formats with while-you-listen voice tracking. Interface with traffic/music schedulers, time shift, time warp, switch and route audio. Control sat receivers, even run radio network uplinks. Retreive and play files from Content Depot and FTP servers and more.
Click here to download the PDF brochure
Built-in Music Scheduler with Artist Separation controls INCLUDED
Single button toggle between walk-away and live-assist mode
ControlReady eliminates the need to maintain a separate music scheduling system
Instant replay screens customizable for each show host
Music satellite, news/talk satellite and music on HD compatible
RDS title and artist support
Record multiple shows at the same time
Simple while-you-listen voice tracking
Automatic traffic and music schedule merging
Fully managed as-run confirmation logs
Full support for Broadcast Tools and compatible switchers and GPI logic
Directly flip Starguide and Unity Receiver channels via RS-232
Auto fill breaks
*.WAV compatible - no need to convert files for loading
Power loss protection - resumes operation if restart ever occurs
Buy as software only or order a turnkey system complete
Music on Hard-Drive system can include pre-loaded TM Century Music
Supports Virtual audio drivers including Axia, Wheatstone, and PR&E VistaMax
Supports digital switcher/console interfaces including Broadcast Tools, Logitek, Wheatstone and others
Live assist provides remote triggering from console
Edit logs in real time without ever stopping the system
Music and breaks show accurate start and end times on every event
Simultaneous play/record and overlapping
Start programs while they are STILL recording
Imports traffic and music schedules from many 3rd party systems
Integrated traffic reconciliation warnings before mistakes air
Time sync to Internet servers or satellite closures
Supports remote DTMF phone control for ball games or remote broadcasts
Content Depot compatible
Rotation management includes daypart and hour by hour exclusions
Free cut labeller you can give ALL your friends and providers
Auto-syncs files across LAN from production or FTP servers
Supports Inovonics, Audemat, The Radio Experience and a wide range of other RDS encoders
Supports Stream Provider connections including Live365, Abacast, Ando, SurferNETWORK