AutoRecord programs & podcast them automatically
See broadcasters using PodcastReady™ to maintain content on their websites...
PodcastReady™ Recording & Web Publishing Playlists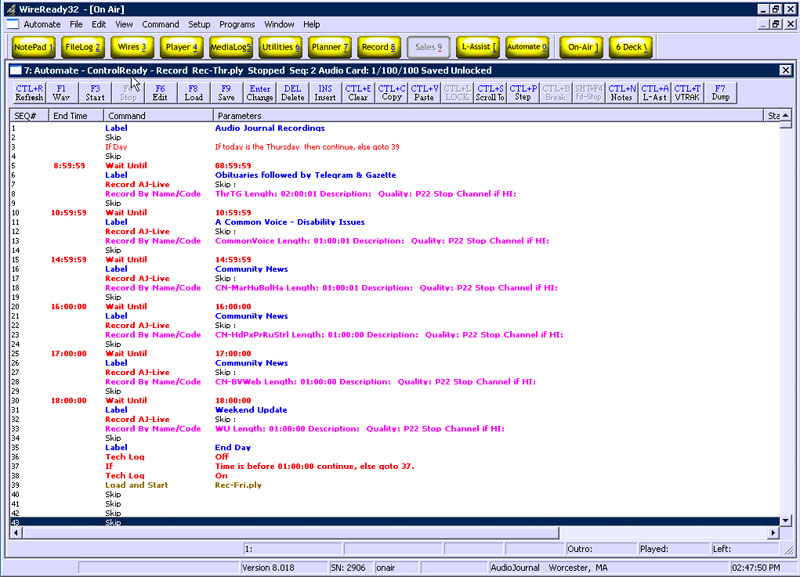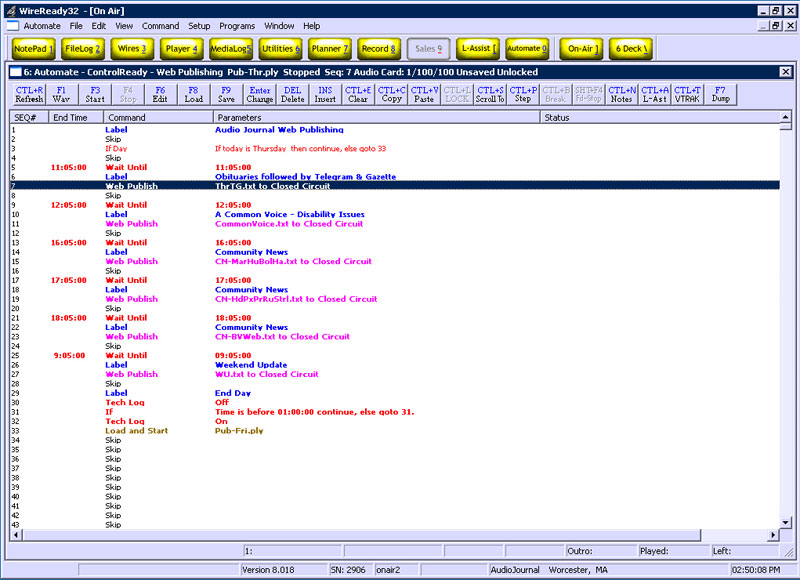 Click to enlarge
Radio for the 21st Century
No matter how you originate your audio programs, PodCastReady can automatically record, convert, compress & paste together entire playlists of files and then web publish your podcasts - complete with RSS feeds to one or more web sites. Record and podcast existing shows, or schedule files you already have in-house to be sent to your web site automatically.
Click here to download the PDF brochure
Schedule all your recordings on a 24/7 basis
Record more than 1 thing at a time
Record based on time or GPI triggers
Automatically autoconvert recordings to MP3/WMA/RA
Automatically FTP converted files to your web site
Automatically update RSS/XML feed files
Automatically delivery to PROGRAM SHARE
Runs on dedicated Windows PC
Works with all automation systems
More Ideas:
Use for in-house logging and archiving needs
Automatically schedule the SPLICING of multiple audio files (segments, commercials, etc.) into one file which is then processed with all the above features
Static & dynamic file naming (overwrite specific filenames and/or form names with replaceable parameters, day, date, hour, etc)
Podcast Newscasts and other short features
Great for live-assist and newsroom use too
Operators can also use PodcastReady to build podcasts quickly and easily. Take any existing audio file, and send it to your web site, we'll convert, compress, upload and RSS/XML it for you automatically
No space for the big game on air? Drive your listeners to your web site for the full game
Uses your existing traffic logs
PodcastReady™ can do all this too:
Automatic Recording
Multi-channel Recording
Multi-Studio Recording
Audio Recording Schedules
Time-Based Audio Recording
Trigger-based Audio Recording
Remote Button Panel Triggered Recording
PodCastReady purchase includes remote configuration and setup by the WireReady team. We will help you build your schedule in our software, program all your web site FTP and RSS controls, and get you up and running for one GUARANTEED fixed price!
Turnkey software/setup packages from $795.
Tell us what you need - we'll make it happen (you supply the computer)